What is an HSA?
Health Savings Accounts (HSAs) combine a High Deductible Health insurance Plan (HDHP) with a tax-exempt trust or custodial account to pay for qualified medical expenses. The HSA is an individual health account that is owned by the employee and may be used for the payment of healthcare expenses.
Participant Features
Low investment threshold to maximize HSA growth
Navia Benefits Debit Card for easy healthcare payments
Billpay for one-time or recurring provider bills
Online and mobile access to balances and transactions
Connect your bank account for automated reimbursements or additional contributions
Medical expense tracking
Easy transfers from other HSAs to your Navia HSA
Customer service online, by email, or by toll-free call
Employer Features
Multiple custodian and investment options
Supports lump-sum or allocated employer contributions
Coordinates with limited-purpose vision and dental
FSA Secure and easy file-based or online administration
Rolling enrollment to encourage participation
Dedicated implementation manager
24-hour or less response time on questions
Online and downloadable reports
Full compliance with federal and local regulations
Plan documents and materials to increase enrollment
User Experience
Smart technology for a better benefit experience.
We know well-designed technology can make administering your benefits easier and improve employee satisfaction. Navia's proprietary technology works across all our solutions to make your day easier and improve everyone's benefit experience.
Employer and Participant Portals
Navia Benefits Debit Card
Mobile App
Mobile Pay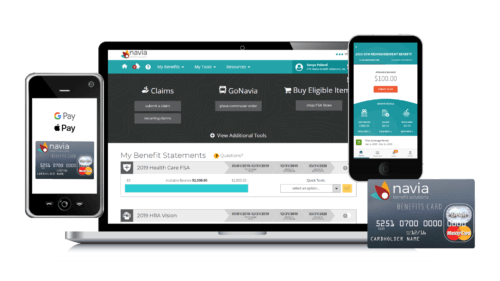 Unparalleled service, no matter where you are.
Navia serves 7,000+ employers across all 50 states. We have 30 years of experience serving the benefits industry and we are committed to providing unparalleled service to our brokers, employers, and participants.
Open Enrollment Support
Navia's clients who participate in our OE webinars see an average 6% increase in enrollment, and clients who participate in our email campaign see an average 15% increase!
Check out our Navia Benefits Academy for our robust open enrollment program to help increase your enrollment year over year!
Slide
Scroll down for individuals
Slide 1
Health Savings Account (HSA)
Financial security for rainy days and retirement
What is an HSA?
An HSA is a personal expense account that works with a high deductible health plan (HDHP), allowing you to set aside a portion of your salary pre-tax to pay for qualified medical expenses. Funds in your HSA account stay with you, even if you change jobs. And, if you're no longer covered by an HDHP, your account stays active, and you can use remaining funds for medical expenses. Your money rolls over every year, which allows you to save for the future!
Who and What is Covered?
An HSA covers you, your spouse, and eligible dependents.
There are 38,000 products and services you can buy for with tax-free HSA money including prescriptions, over-the-counter drugs, feminine products like tampons, doctor's office copays, health insurance deductibles, and even things like band-aids, first aid kits, face masks and hand sanitizer. Check out the full eligible expense list here.
How Does it Work?
Federal, state, and FICA taxes lower your take-home pay by 30% or more, leaving the remaining 70% for your living expenses When you use an HSA, you set aside money before it is taxed, so you spend the entire 100% of your earned income. This means you save 30% on your out-of-pocket medical expenses when you use your HSA.
Estimate your annual election. During your open enrollment, use the HSA calculator to estimate your out-of-pocket healthcare expenses for the plan year. This will help you determine your annual election amount.
Monthly paycheck deductions. The amount you elect will be deducted evenly out of each paycheck on a pre-tax basis and put into your HSA. Contribution changes are allowed during the plan year; however, your employer may restrict or limit changes for administrative purposes. Check with your employer for details.
Pay and submit claims! Claims can be submitted online or through Navia's mobile app. Some Navia plans also offer a debit card, which is your fastest way to pay and avoid a claim.
Invest your funds. One you enroll, you will be given access to a secure, easy-to-use web portal where you can track your account balance, view your investment accounts, and submit claims.
Accessing Your Benefits
Navia Participant Portal
Get 24/7 access to your benefits with the Navia Participant Portal. Submit claims, view account balances and history, get alerts and notifications, request additional debit cards, access our customer service, and much more!
Navia Mobile App
Whether you're at the doctor's office or on vacation, the MyNavia App allows you to manage and access your benefits right from your smartphone! Available for iPhone and Android devices, the MyNavia App is a free-to-download and free-to-use tool for any Navia participant.
Navia Benefits Debit Card
Just swipe your Navia Benefit Card to pay for eligible healthcare expenses. Funds come directly out of your FSA and are paid to the provider. Some swipes require us to verify the expense, so hang on to your receipts! If we need to see it, we will send you a notification.
Navia Mobile Pay
Mobile Pay is also available for any participant that has the Navia Benefits Debit Card. Add your Navia Benefits Debit Card to your online wallet and begin paying for eligible expenses with your digital wallet! Learn more here.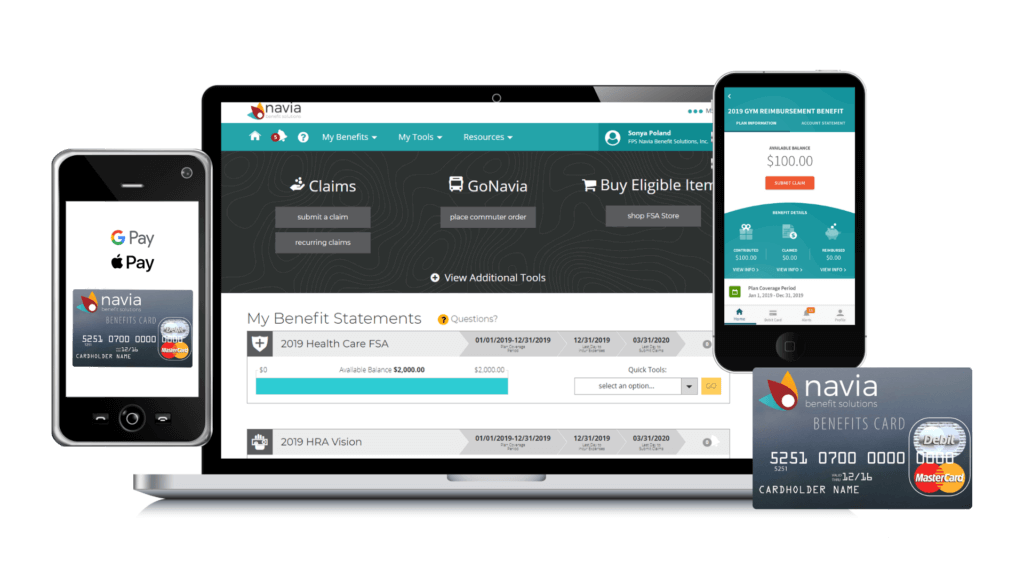 Invest Your Funds
Your HSA money earns interest and may be invested in mutual funds.
Your unused funds earn federal tax-free interest. Also, if you maintain a minimum balance of $1,000 your additional funds may be invested in mutual funds yielding tax-free earnings.