What is an FSA?
A Healthcare Flexible Spending Account (FSA) is a personal expense account that works with an employer's health plan, allowing employees to set aside a portion of their salary pre-tax to pay for qualified medical expenses. Since FSAs are a pre-tax benefit they help employees save up to 40% on health and dependent care expenses. FSAs allow employees to set aside pre-tax dollars to pay for eligible medical expenses such as prescription drugs, co-pays, deductibles, procedures, and other out-of-pocket medical costs.
Participant Features
Navia Benefits Debit Card for easy healthcare payments
Online and MyNavia mobile access to balances and transactions
Recurring claim submissions
Connect your bank account for electronic reimbursement – no checks
FlexConnect to manage and pay medical, dental, and vision expenses
Customer service online, by email, or by toll-free call
Employer Features
Secure and easy file-based or online administration
Analytics and campaigns to encourage participation
Online and downloadable reports
Coordinates with HSA for vision and dental expenses
Dedicated implementation manager
Full compliance with federal and local regulations
Plan documents and materials to increase enrollment
Responsive and experienced employer service team
User Experience
Smart technology for a better benefit experience.
We know well-designed technology can make administering your benefits easier and improve employee satisfaction. Navia's proprietary technology works across all our solutions to make your day easier and improve everyone's benefit experience.
Employer and Participant Portals
Navia Benefits Debit Card
Mobile App
Mobile Pay
FlexConnect

Unparalleled service, no matter where you are.
Navia serves 7,000+ employers across all 50 states. We have 30 years of experience serving the benefits industry and we are committed to providing unparalleled service to our brokers, employers, and participants.
Open Enrollment Support
Navia's clients who participate in our OE webinars see an average 6% increase in enrollment, and clients who participate in our email campaign see an average 15% increase!
Check out our Navia Benefits Academy for our robust open enrollment program to help increase your enrollment year over year!
Slide
Scroll down for individuals
Slide 1
Health Care Flexible Spending Account (FSA)
Save over $900 a year on health care expenses
What is an FSA?
A Healthcare Flexible Spending Account (FSA) is a personal expense account that works with your employer's health plan, allowing you to set aside a portion of your salary pre-tax to pay for qualified medical expenses. You can use a Healthcare FSA for eligible medical, dental, vision, feminine products, over-the-counter and prescription drugs. In fact, there are more than 38,000 ways you can use your FSA funds.

Who and What is Covered?
A Healthcare FSA offers family coverage, which means it covers you, your spouse, and eligible dependents.
There are 38,000 eligible expenses you can purchase with your FSA funds, including prescriptions, over-the-counter drugs, feminine products like tampons, doctor's office copays, health insurance deductibles, and even things like band-aids, first aid kits, face masks and hand sanitizer.
Check out the full eligibility list!
How does it work?
Federal, state, and FICA taxes lower your take-home pay by 30% or more, leaving the remaining 70% for your living expenses. When you use an FSA, you set aside money before it is taxed, so you spend the entire 100% of your earned income. This means you save 30% on your out-of-pocket healthcare expenses when you use your FSA. It's like free money
Estimate your annual election. During your open enrollment use an FSA calculator to estimate your expenses for the plan year and come up with how much your annual election should be.
Monthly paycheck deductions. Your annual election amount will be evenly deducted pre-tax from your paycheck throughout the plan year. You cannot change your annual election amount after the plan start unless you have a qualified change in status.
Funds are available immediately. Once you are enrolled, you have access to your funds immediately. Claims can be submitted online or through Navia's mobile application.
Pay and submit claims. Claims can be submitted online or through Navia's mobile app. Some Navia plans also offer a debit card, which is your fastest way to pay and avoid a claim.
Accessing Your Benefits
Navia Participant Portal
Get 24/7 access to your benefits with the Navia Participant Portal. Submit claims, view account balances and history, get alerts and notifications, request additional debit cards, access our customer service, and much more!
Navia Mobile App
Whether you're at the doctor's office or on vacation, the MyNavia App allows you to manage and access your benefits right from your smartphone! Available for iPhone and Android devices, the MyNavia App is a free-to-download and free-to-use tool for any Navia participant.
Navia Benefits Debit Card
Just swipe your Navia Benefit Card to pay for eligible healthcare expenses. Funds come directly out of your FSA and are paid to the provider. Some swipes require us to verify the expense, so hang on to your receipts! If we need to see it, we will send you a notification.
Navia Mobile Pay
Mobile Pay is also available for any participant that has the Navia Benefits Debit Card. Add your Navia Benefits Debit Card to your online wallet and begin paying for eligible expenses with your digital wallet! Learn more here.
FlexConnect
Get reimbursed for all healthcare claims with one click! FlexConnect collects all your health, dental, vision, and prescription claims in one central location and allows you to submit for reimbursement with your FSA. Learn more here.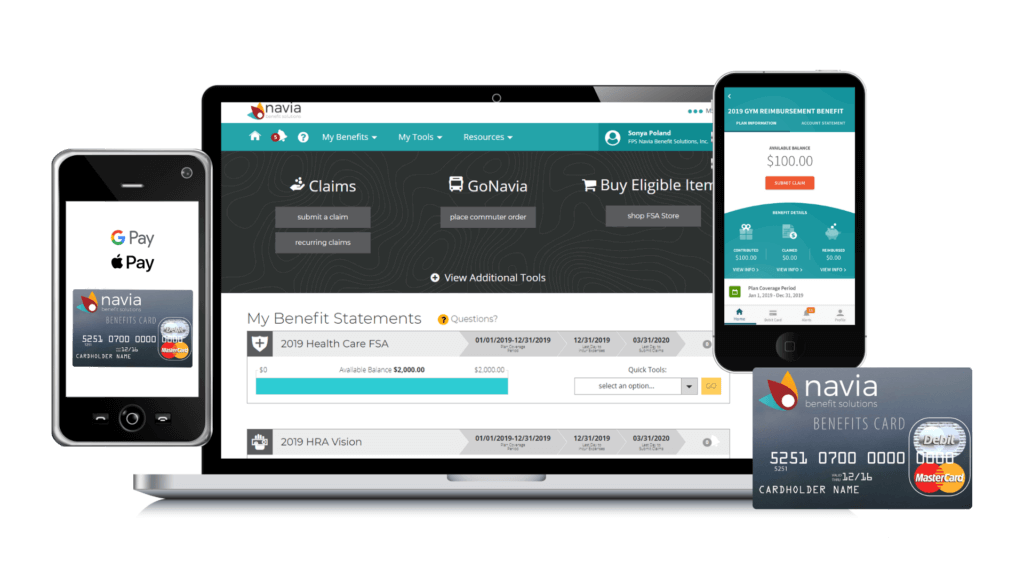 Deadlines & Extenstions
The Healthcare FSA is subject to the "Use-It or Lose-It" rule. This means that if you do not use all of your annual election within the plan year, the remaining funds are not refundable to you. Fortunately, very few participants forfeit money in an FSA, and the IRS has relaxed the rules in recent years to make it easier for FSA participants to avoid forfeiture.
Some plans include features that extend deadlines and roll over funds
Run-out Period
The run-out period is how long you have to file a claim for medical costs incurred during the plan year and during the grace period following the plan year. Run-out periods vary by employer and typically last 60 to 90 days after the end of the plan year.
Carryover
The Carryover feature allows participants to roll over up to $610 from one plan year to the next. Any funds above the threshold would be forfeited. This is an optional feature, so check your employer's plan design to see if the Carryover is included. 
Grace Period
The Grace Period gives you an extra 2.5 months at the end of the plan year to incur expenses against your FSA balance. This is an optional feature, so check your employer's plan design to see if the Grace Period is included. 
Check your employer's plan design to see if the Grace Period or Carryover feature is part of your plan. Plans can only have either a Grace Period or Carryover, not both.