What is an HRA?
A Health Reimbursement Arrangement (HRA) is an innovative approach to employee benefits. This type of plan is an arrangement set up and funded by the employer to offer a specific benefit to the employees. Your employees can then use the HRA to be reimbursed for their qualified out-of-pocket medical expenses and, in some cases, Individual Medical Coverage Premiums (ICHRA).
HRA plans have endless design options and can be shaped to best fit your organizations financial goals and employee benefit needs. In many cases, the HRA functions as a simple reimbursement account. The employee submits a claim accompanied by itemized documentation to Navia for approval. Once approved, the employee is reimbursed for their eligible expense.
Participant Features
Online or mobile HRA claims submission
Dedicated HRA service team to handle complex HRA questions
MyNavia mobile app
Direct deposit for claims reimbursement
Navia Benefits Debit Card (for HRAs that cover all medically necessary expenses)
Customer service online, by email, or by toll-free call
Employer Features
Configurable support for popular HRA plan types
Comprehensive enrollment and communications
assistance
Plan metrics at your fingertips on the employer portal
Automated online plan renewal
Dedicated HRA support team
Plan documents, SPDs, and non-discrimination testing
Dedicated implementation manager
Responsive and experienced employer service team
User Experience
Smart technology for a better benefit experience.
We know well-designed technology can make administering your benefits easier and improve employee satisfaction. Navia's proprietary technology works across all our solutions to make your day easier and improve everyone's benefit experience.
Employer and Participant Portals
Navia Benefits Debit Card
Mobile App
Mobile Pay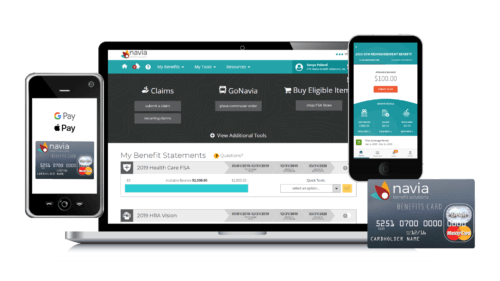 Unparalleled service, no matter where you are.
Navia serves 7,000+ employers across all 50 states. We have 30 years of experience serving the benefits industry and we are committed to providing unparalleled service to our brokers, employers, and participants.
Open Enrollment Support
Navia's clients who participate in our OE webinars see an average 6% increase in enrollment, and clients who participate in our email campaign see an average 15% increase!
Check out our Navia Benefits Academy for our robust open enrollment program to help increase your enrollment year over year!
Slide
Scroll down for individuals
Slide 1
Health Reimbursement Arrangement (HRA)
Reduce your out-of-pocket healthcare expenses
What is an HRA?
A Health Reimburse Arrangement (HRA) is an account that works with your employer's health plan, that allows you to be reimbursed for certain out-of-pocket healthcare expenses. HRAs are benefit plans completely designed by your employer.
Who and What is Covered?
An HRA reimburses you for your eligible out-of-pocket healthcare expenses incurred by you and/or your covered dependents.
Eligible expenses are determined by your employer, but often follow eligible expenses covered by your group health plan. For a complete list of covered expenses, please contact our customer service team or your employer.
How Does it Work?
Enroll in a group health plan. During your open enrollment select a group health plan with your employer. If the group health plan you have selected has an HRA plan, you will automatically be enrolled in the HRA.
Learn about your specific plan. Since each HRA plan is different, you will need to make sure you know your plan details. You will receive a Navia HRA Navigation Guide. This guide will have all of your plan specifics.
Funds are available immediately. The HRA funds are available to you on the first day of the plan year. However, you must meet the specific plan design.
See provider for services. Once you've received healthcare services from a provider, they will bill your medical insurance. You will receive an Explanation of Benefits (EOB) from your medical insurance provider showing how your benefits were applied.
Submit claims online! Claims can be submitted online on the Navia participant portal or through Navia's mobile app. You will need a copy of your Explanation of Benefits (EOB) when sending your claim to Navia.
Accessing Your Benefits
Navia Participant Portal
Get 24/7 access to your benefits with the Navia Participant Portal. Submit claims, view account balances and history, get alerts and notifications, request additional debit cards, access our customer service, and much more!
Navia Mobile App
Whether you're at the doctor's office or on vacation, the MyNavia App allows you to manage and access your benefits right from your smartphone! Available for iPhone and Android devices, the MyNavia App is a free-to-download and free-to-use tool for any Navia participant.
Navia Benefits Debit Card
Just swipe your Navia Benefit Card to pay for eligible healthcare expenses. Funds come directly out of your FSA and are paid to the provider. Some swipes require us to verify the expense, so hang on to your receipts! If we need to see it, we will send you a notification.
Navia Mobile Pay
Mobile Pay is also available for any participant that has the Navia Benefits Debit Card. Add your Navia Benefits Debit Card to your online wallet and begin paying for eligible expenses with your digital wallet! Learn more here.